Ayo Game Board
ARTIST:
Attributed to Olowe of Ise,  (1875 – 1937)
COUNTRY:
Ekiti State, Western Nigeria
DIMENTIONS:
35 in (88.9 cm) wide x 29″ (73.7 cm)
MATERIAL:
Iroko Wood (native to western Nigeria), Polychrome paint, patina of age.
PROVENANCE
From the Bode & Edna Augusto Collection.
This regal Ayo game board (ỌPỌ́N AYÒ) was created for the house of Agbongbon Aramak of Ekiti, a renowned Ifa priest in the 1920's. The game box passed by descent through the family. It was acquired through Chief Adeleke Ifatogi of Aramako township, in the Ekiti west local government area.
EXHIBITED
Ere & Reflections – George Washington Carver Museum & Cultural Center, Houston Texas, September 14 – January 5, 2013
LITERATURE
Ere Yoruba, Craig D Fashoro
CATALOGUE NOTE
Mancala is a type of the many variations of this ancient game board, rather than any specific game. It is a board game known by different names in different regions of the world. The gam is known as Ayò (the game board is called Ọpọ́n ayò) among the Yoruba in Nigeria, Bao in most of east Africa (including Kenya, Tanzania, Comores, Malawi as well as Congo), Congkak in South Asia from the Maldives to the Philippines, etc.
Although the basic premise remains the same, of simple mathematical strategy, there are as many variations of the carved board, as there are names for the game.
This aged, spectacular sculpture is a prestige pice attributed to the Yoruba maestro, Olowe of Ise. The word Mancala means to "transfer" in Arabic. Playing pieces are transferred from one bin to another during play. Ornately carved pieces like this were often commissioned by royalty or citizens of very high status.
BELOW:
The Baálẹ, (Paramount Chief) of of Òsí Ilorin, Odofin Asòjò (second Right) challenged us to an ayò (mancala) duel.  He fielded his 10 year old granddaughter, supposedly a grand master of the game.
The Baálẹ explained that the Yoruba consider the ayò game the equivalent of a Western intelligent quotient test.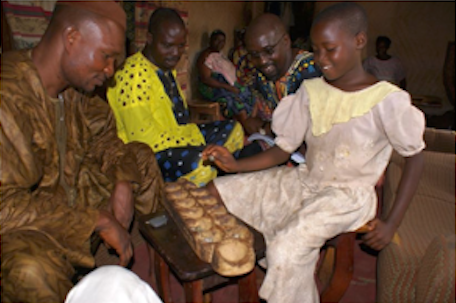 Ayò with the Paramount Chief of Òsí Ilorin