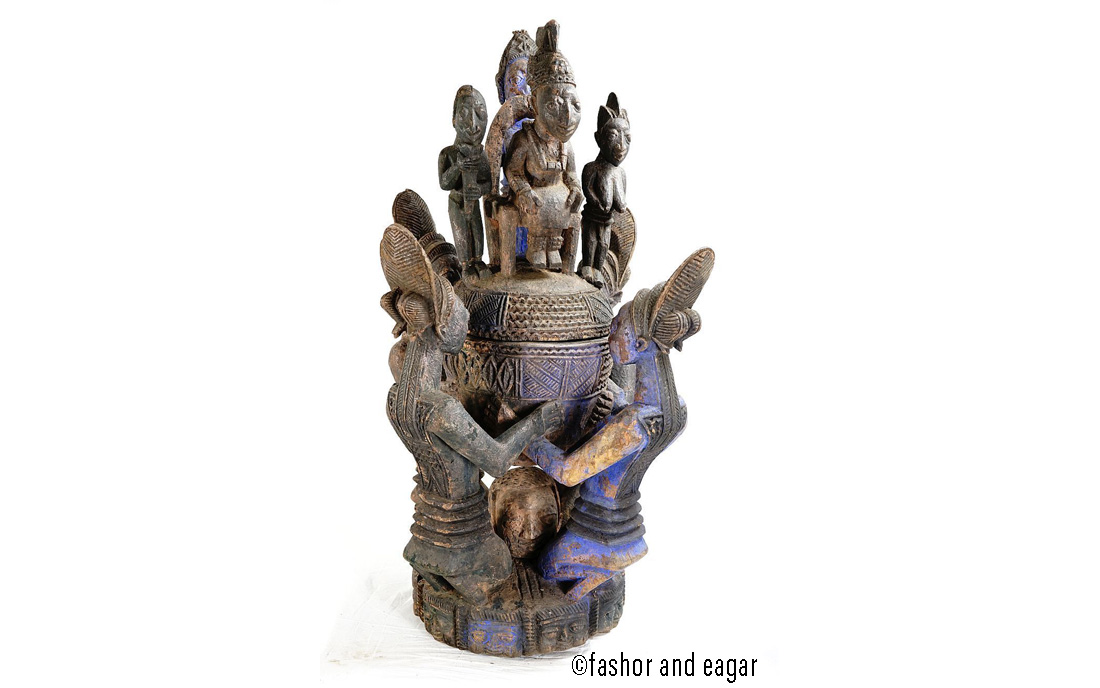 15 Oct

OLOWE OF ISE: BOTH

Olowe of Ise was an ardent initiate of Yoruba traditional religions and while not all his works were strictly religious carvings, Olowe often reflected Yoruba religious themes in his works. He  Polychrome on his earlier commissions appeared to have been more of religious accents than decorative.

For an example, the agere olumeye, (a religious utilitarian artifact and larger "cousin" of the one in Roz Walker's museum) featured in our Ere Collection, is generously imbued with vegetable dyes that are still visible even with age. However, in the course of ritual use over time, the indigofera tinctoria was replaced with colonial imported Reckitt or Robin (trade names) ultramarine blue powder popularly used for laundry. The original owners, a once prominent family of several generations of Baba'lawos, who sold it, said the indigo blue was an homage to "Iya Mapo" (remember "Oke Mapo" in Ibadan?), the deity that protects all exclusively female professions like pottery, dyeing, hair- braiding, soap making, etc. the darker (black?) dye they claim an homage to Ogun. There was no way to verify that.

Where this really gets interesting is;  Yeye, Olowe of Ise's daughter, linked us with the family. Months later, after we acquired the agere, we went to thank her with (the agere in tow). Yeye claimed even though she hadn't seen the agere in decades, she recognized it, and quipped that her father's work had been somewhat 'adulterated' with the Robin Blue overcoat (aro), pointing out the more subtle, almost completely faded original vegetable stains. She agitated some parts of the sculpture with a water soaked rag, and indeed, they bled colors; colors that were hitherto almost invisible to the naked eye.

In decorative instances, the purpose of the polychrome accents applied seemed an effort to make his subjects emphasize some of his views of beauty or exude power, as opposed to whimsical decorative finishes of the wood. Some of those dyes included:

Louchocarpus Cyanescens – (indigofera Tinctoria)  dye widely used for 'adire' in southern and northern states. Although not as easily available in Ekiti, it was readily available from traders from nearby Offa & Ilorin.

There is no doubt that Olowe incorporated commercial paint finishes in his later works. His daughter confirmed as much, citing the the fact most of Olowe's peers working in that era gradually succumbed to the influence of exposure to colonial influences. Unlike Areogun, he did however stopped short of glossy furniture varnishes.